OUR 2006 YFC Side provided opponents for a visiting South Belfast Select at Ralston Complex last weekend.
Two select age groups from across the Irish Sea were visiting the area with InspireSport and engaged in a number of activities over their weekend stay.
It was an excellent test for the Thorn side – who had also played the day before – and ended in a goalless draw despite being a high-quality encounter, with the visitors earning a 4-3 win on penalties.
The conditions were more conducive to the passing football we've become accustomed to from this Thorn team, and the boys from Belfast proved worthy opponents throughout. Both teams created some fine passages of play, displaying good control and a real eagerness to win every challenge.

After soaking up some early pressure from Belfast, the boys started to settle into a rhythm with one of our first chances coming from some precise passing play between Ross, Liam and Ryan, resulting in a throw. This was quickly taken, with the ball finding its way to Ross who blasted a shot from outside the box, forcing an excellent save from the Belfast goalie.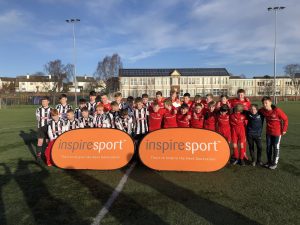 Throughout the half, both teams kept the ball on the deck, working moves out from the back. The first corner of the match went to Belfast, who were unlucky to hit the side net. A few minutes later, Kyle was forced into action from a Belfast long shot. On balance, the boys maintained the bulk of possession, working hard to win balls in every area of the park, with the goal threat from Belfast continually smothered by the diligent Thorn defence.

The second half saw more end-to-end play, but Thorn lacked a vital spark in the final third and the precise finishing we are familiar with failed to materialise. Both teams created a number of set piece opportunities, but neither were able to capitalise on these chances. A late solo run from Brodie earned the final corner of the game, but again, the chance was squandered and the game finished a draw.

The game went to a penalty shoot-out, which is always a lottery, and on this occasion, the visitors claimed the victory with a 4–3 score line. Despite this, the match was an excellent experience for the boys, playing a talented, well organised, physical side.