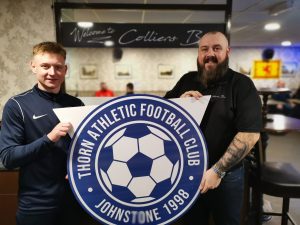 THORN ATHLETIC'S adult team have agreed a new sponsorship deal with Colliers Bar in the town centre.
It is an exciting new chapter for the team who had previously been based at the Thorn Inn for nearly two decades.
But now the team are ready to kickstart a new relationship with Colliers, which has undergone a positive transformation in recent years under new owner Jamie Robertson and his family.
The deal will see the team return there after matches for hospitality and host away teams when they visit the town. And the team will also look to support the business at other times and encourage their supporters, friends and family to visit.
And the pub, which serves food all week and shows all major sporting events, has already made the team welcome by creating a space for them where they can sit together.
And Mr Robertson said: "We are happy to welcome the team to the pub and to be able to support them by putting something back into a local voluntary and community organisation.
"Our family has been involved in running pubs for many years and we have a record of supporting teams when we can."
And team secretary Mark McGee said: "We are looking forward to building up our relationship with Colliers and making it a new base for the team.
"We would like to thank Jamie, Rosemary and all the staff for making us feel welcome and hopefully this will be beneficial for us both in the years to come."