A BUMPER 150 crowd turned out to see us crown our star men at a glamour dinner at St Mirren Park.
Top table speakers former Scotland manager Craig Brown and ex-referee Willie Young kept the guests entertained after a fantastic three-course meal.
Striker Jordan Devine won the Player of the Year award along with the top goalscorer gong for his haul of 35 goals during campaign 2015-16. Former Aberdeen and Motherwell gaffer Brown handed over the engraved glass trophy.
Midfielder John Hay emerged with the Players' Player of the Year and received his award from fellow guest and current UEFA observer Young.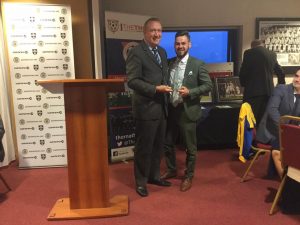 Also recognised on the night was attacker Craig McGlone – the Thorn's all-time top goalscorer – who was presented with an award for his long service to the club from Thorn Athletic life member and club stalwart Jim Allen.
Fundraising efforts on the night from the, giant football card, raffle, auction and silent auction saw just over £4,000 raised to boost the team ahead of their first season in the Premier Division of the Caledonian League.
It was a memorable night for the organisers and everyone was delighted the event was a rip-roaring success.
The club's sponsors Direct Engineering, Graeme's Butchers, The Thorn Inn and McDoc Caravan Hire were all instrumental in the success of the night with most represented on the night and others donating great auction or raffle prizes.
Club secretary Mark McGee said: "It was our first attempt at doing something on this scale and it was a resounding success. The support from players, family and friends was tremendous.
"We would like to thank everyone who made it happen, in particular Campbell Kennedy at St Mirren for his help organising the event and his valued support on the night itself. It's a great venue."
Both guest speakers spoke highly about the club as they addressed guests and afterwards the ex-Scotland boss Brown – the last national team manager to lead the country to a major championship, said: "It was a very enjoyable evening in great company. Good luck to the club going forward, you deserve the best."
All the pictures from the night out can be viewed on the Gallery page of the site.