THORN ATHLETIC have agreed the biggest sponsorship deal in their history after Direct Engineering extended their long-standing backing of the club's adult team.
The financial windfall – the equivalent of five years' worth of support – will play a significant part in helping the team bounce back from more than a year of inactivity and boost their development plans for the future.
With in-person fundraising pretty much outlawed due to Covid, the support of one of the west of Scotland's largest engineering firms, who have premises in both Linwood and Paisley, is a real coup for the Johnstone side.
Direct Engineering service many blue-chip companies across the United Kingdom, particularly in the food and drink sector, and they have provided continual support to Thorn for more than a decade.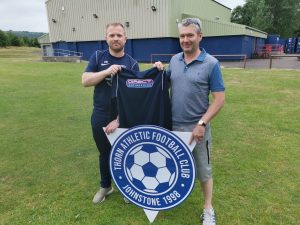 The firm's logo will be on the club's Nike tracksuits and rainjackets for the team's forthcoming season in the Caledonian Premier League.
Direct Engineering managing director Dominic McGee said: "We are delighted to extend our support for Thorn Athletic as they enter a crucial period in their development.
"We know it's been a difficult year for grassroots organisations given the barriers they have had with raising funds in the traditional manner.
"We have built up a longstanding relationship with the Thorn and we are delighted to be able to reinvest in a growing community project.


"Their community work continues to evolve and we have no doubt they'll go from strength to strength."
A spokesperson for Thorn Athletic said: "We were blown away by this contribution. Direct Engineering have been committed to supporting us for many years and in many ways – but this investment took it to a new level.
"We will proudly display their name wherever we go and hopefully represent them well."