THORN ATHLETIC 2006 YFC have announced well-known Johnstone business John Marshall & Son as their new kit sponsor.
The award-winning High Street butcher has formed a successful partnership with the current Paisley, Johnstone & District Youth Football League First Division champions.
John Marshall & Son have kitted out the team with a brand new luminous Nike away kit to boost their title defence, which carries the business logo emblazoned across the front – you certainly won't miss them!
Head coach Steven McKnight, who led the team to no fewer than EIGHT trophies last season, was delighted to get the long-established business on board.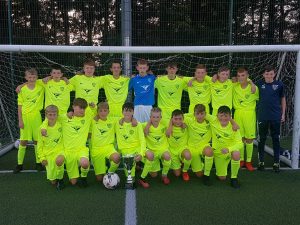 He said: "We are grateful to Bryan and his team for their support. The continued backing of the local business community is essential to our success."
Bryan Marshall, owner of John Marshall & Son, said: "Putting something back into the community, especially grassroots football is something we are happy to do.
"We realise the challenges that face voluntary sports groups these days but with the support of the Johnstone community for our business we will do our best to continue to back good causes where possible."
Team captain Haydon Barrett presented a framed top to staff at the shop and it will take pride of place on display for customers at the busy shop.