Thorn Athletic manager Johnny McEwan hopes his side will be able to build on their amazing double success this season.
The Johnstone side wrapped up the Caledonian Premier League title recently to add to the William Turner Challenge Cup secured a few weeks ago.
And although there's been plenty of celebrations, McEwan admits the hard work has already started for the new season.
Thorn already have a high profile pre-season programme arranged including games against East Superleague junior outfit Carnoustie Panmuir at Laing Park and this season's Scottish Amateur Cup finalists Eastfield AFC.
McEwan said: "The players will have a break after Saturday's match against Dalziel but work will be ongoing behind the scenes as we prepare for next season.
"Everyone at the club is absolutely delighted with the silverware this season. The Caledonian Premier League is one of the toughest to win at this level and the boys have been magnificent.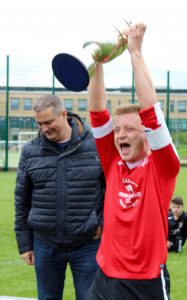 "We hope to keep the bulk of the squad together as they are a great bunch with the right mix of youth and experience. New faces will come in and no doubt we will naturally lose a few but it's all systems go."
Goals from Shaun Kelly and skipper Ryan Crawford secured a 2-1 win against Wishaw and the three points needed to secure championship glory.
The Thorn had started off the season with former player James Donnelly at the helm but soon he had to stand down due to personal reasons.
McEwan acknowledged the role of his predecessor and added: "James had brought together a strong squad here and I'm delighted we have been able to deliver success for this group.
"He worked hard to bring the club back from a few poor seasons and credit to him for laying the foundations. Our job now is to get the best out of them and hopefully we have done that."
And then they can look forward to a glittering end of season bash with some important items of silverware on show.