THORN ATHLETIC officially launched their new girls team with the help of the Scottish Football Association on Friday.
Head coach Charlene Reid with help of Paul Reid from the club's 2008 side have been running successful sessions for around 20 girls over the past few months.
The club has been supported by the Scottish FA's West Region Club Development Manager Corrie Campbell and Tina Stewart, the Scottish FA's Girls' and Women's Development Officer as they looked to get the venture off the ground.
And last week they attended the club's base at the McMaster Sports Centre in Johnstone to give a presentation to the parents of the girls involved and officially rubber stamp the latest addition to the club's teams.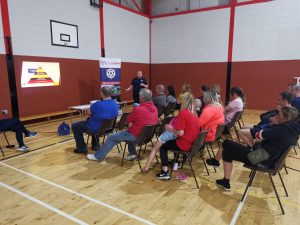 Thorn will be looking to run teams at both Under-11s and Under-13s and have received a start-up grant from the Scottish Football Partnership to help get things up and running. Those funds will be used for affiliation and registration fees along with insurance, first aid and coach education.
Club chairperson Mark McGee said: "It's hugely exciting for us to finally get involved in female football, which has seen significant growth over the past ten years. That culminated in the women's World Cup which attracted great interest over the summer.
"We are grateful to both Corrie and Tina for their support and we look forward to getting started and seeing the girls in action."
Head coach Charlene said: "We've already had fantastic feedback from the girls and they are enjoying it, which is what it's all about."