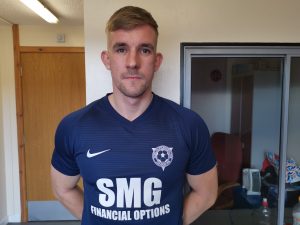 ABOUT DEAN SCOTT… 
Dean's prowess knows no bounds if he's in the mood. He offers explosiveness and powerful running ability that can bamboozle opponents. A clean striker of the ball and very capable finisher, he normally hits double figures every season. Been at the club for several years with the exception of a brief soiree to the Juniors with Benburb. Being used in a more advanced position his goal tally may rise and hopefully with consistency he'll take his game to a new level.
BUSINESS SPONSOR OR CHOSEN CHARITY FOR SEASON 2019-20
AWAITING CONFIRMATION
Each player has recruited their own sponsor this season to help the club develop and have continued stability. Without this support from individuals and businesses then the grassroots football community simply couldn't continue. So if you can, please support the businesses or charities that support us. Thank you!