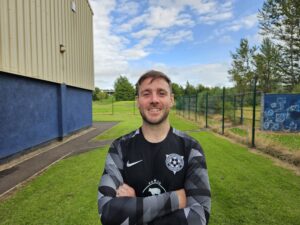 ABOUT LIAM McWILLIAMS… 
An institution between the sticks for more than a decade and now one of the senior players in the squad following a successful spell as skipper which saw him lift silverware, most recently the Caledonian First Division Championship in the club's first season in the league. An agile shot-stopper and expert in one-on-one situations, Liam is proven as a top keeper and one who has gone from strength to strength during his time at the club.
BUSINESS SPONSOR OR CHOSEN CHARITY FOR SEASON 2019-20
Developmental Coordination Disorder (DCD), also known as dyspraxia, is a common disorder affecting fine and/or gross motor coordination in children and adults. DCD is formally recognised by international organisations including the World Health Organisation. DCD is distinct from other motor disorders such as cerebral palsy and stroke, and occurs across the range of intellectual abilities. Individuals may vary in how their difficulties present: these may change over time depending on environmental demands and life experiences, and will persist into adulthood.
This page is sponsored by David Elliott to raise awareness about Dyspraxia.
Each player has recruited their own sponsor this season to help the club develop and have continued stability. Without this support from individuals and businesses then the grassroots football community simply couldn't continue. So if you can, please support the businesses or charities that support us. Thank you!