THORN ATHLETIC skipper Ryan Crawford has picked up his third Scotland cap after facing the Northern AFL at the Falkirk Stadium at the weekend.
The Northern Irishmen eventually edged out the Scots 4-3 on penalties after a hard-fought 1-1 draw in normal time to lift the Jack Britton Rosebowl.
Crawford was called into the squad late on Friday by international manager Colin MacLeod and came on at half-time for Tollcross Thistle's Stewart O'Neill with the side trailing by a goal to nil.
They eventually got back into the match with a leveller from Hurlford Thistle's Steven Currie before going down after the lottery of spot-kicks.
Crawford was one of three players from the Caledonian League selected for the squad after a number of impressive displays for his club and the league's representative side.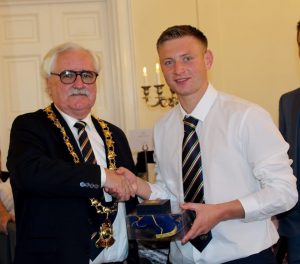 Last year he was selected for the Uefa Regions Cup in Slovenia and was involved in three games during that competition.
And he said: "It's been a great experience being involved in the Scotland set-up and playing with such a good group. It's been a busy time for Thorn Athletic but it's also good to get the chance to be capped for your country.
"We were unfortunate to be on the losing side but anything can happen with penalties."
The Caledonian Select side still have business to finish off after reaching the final of the Inter-League trophy after seeing off the Central Scottish, Kingdom of Fife and Lothian and Ediunburgh leagues on their way to a clash with the Ayrshire AFA.
That match is scheduled for Broadwood Stadium on Sunday, May 19 with a 4.00pm kick-off.