OUR first ever summer football camp was given a huge thumbs up by everyone who took part.
Almost 30 kids signed up for the action-packed five-day event that ran from July 25-29 at the McMaster Sports Centre in Johnstone.
It was run in conjunction with Thorn Athletic 2006 head coach Steven McKnight and fellow coach Alasdair Buchanan.
Kids were treated to five fun-filled days of drills, ball mastery, enjoyable games and various activities that helped improve their football skills.
The Thorn camp was just one of three hugely successful week-long camps run by coach McKnight which was split into morning and afternoon sessions either side of a lunch break.
And such was the quality of skill on show that scouts of some top senior clubs popped by resulting in two players training at Rangers' Murray Park this week.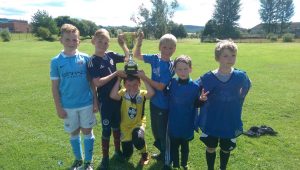 Club spokesperson Mark McGee said: "We were delighted that the club was able to promote and host our first ever camp last week.
"It was universally enjoyed by all the kids and they all had a fantastic time. Feedback from kids, coaches and parents alike was superb.
"The quality of coaching delivered by Steven is of the highest standard and the end results are demonstrated by the real progress the children have shown in just a week.
"This is another milestone for the club and we would like to place on record our thanks to Steven and Alasdair for putting on such a great event."