THORN ATHLETIC 2014/15s are raring to go when football returns after bringing a strong team of sponsors on board.
These kids are among the growing Johnstone club's youngest age groups and unfortunately their journey into the beautiful game has been delayed by the pandemic.
But when they eventually get the green light to resume training and playing small-sided games in the Paisley, Johnstone & District Youth Football League they have everything they need thanks to a top line-up of local companies.
Docherty Transport Ltd, Arnold Clark Seat/Skoda at Linwood, Kilbarchan Maintenance Service and Horne Engineering – based in the town – have ensured they are kitted out with a stunning array of new Nike teamwear.
The kids have training kits, strips, jackets and the coaches have been kitted out along with the purchase of training equipment.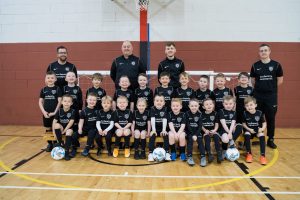 A spokesman said: "We have been blown away by the generosity of all these companies – especially given the challenging circumstances for businesses just now.
"We've also had amazing kindness shown from all the parents as we wait patiently to get the kids back playing again.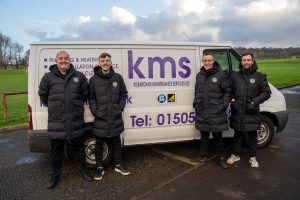 "They all look smart and are raring to go. They have missed so much but with the fantastic sponsorship they certainly have everything they need."
The team would also like to RPL Media Ltd who have helped showcase the group over the past few months.
From left to right, coaches/officials Mark Sloan, John Martin, Michael O'Brien and Tommy Graham with their sponsored jackets.