CALEDONIAN Premier League champions Thorn Athletic will get Turf with their opponents this season after announcing a brand new kit sponsorship deal.
Leading domestic and commercial artificial grass supplier CY Turf have agreed to come on board to kit the senior team out ahead of the new campaign.
The Hillington-based company – who offer the full design, landscaping and installation service – are in a league of their own when it comes to artificial grass and decided to form a winning combination with 'The Thorn'.
With the growth in uses for artificial turf this is an expanding market and one the Johnstone club are delighted to be associated with.
CY Turf director Duncan Yates said: "We are delighted to have agreed a deal with Thorn Athletic as we have followed their success over the past few years.
"They have a high profile and much like our area of business they have enjoyed real growth and see the potential for success. Hopefully it will help raise the profile of both organisations."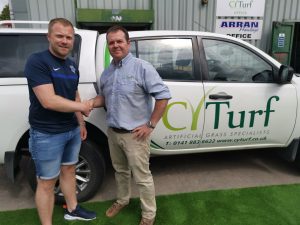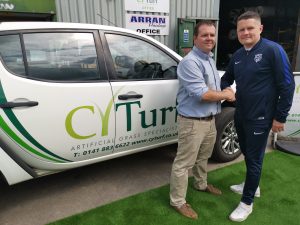 Fellow company director Steven Carmichael added: "We are happy to be in a position to support the club and look forward to watching their progress."
The club are looking forward to having a new Nike kit to kick-off the 2019-20 campaign and club secretary Mark McGee believes this is great news for the club.
He said: "We are delighted to have CY Turf on board and look forward to promoting them throughout the season across the west of Scotland and hopefully beyond.
"It's great when a business recognises the value of putting something back into the grassroots game and of course with the link between football and the many uses of artificial turf then this is hopefully a good fit."
Website:  cyartificialgrass.co.uk or give them a call on 0141 883 6622.