WE finally ended a six year wait this week when the club's adult side were crowned Caledonian League First Division 1B champions.
A fantastic season – which saw the team win 14 out of 18 games – meant they cannot now be caught by rivals like Westerlands, Cambria and Larkhall as the battle rages on for second spot.
The triumph ended a barren spell for the team which has undergone a huge transitional phase over the past three years under Paul Elliott, Scott Graham and current manager James Donnelly.
And after the bitter disappointment of last year's farcical SAFL Premier League disgrace this is doubly as satisfying for all involved.
It also vindicates the committee's decision to quit the SAFL set-up which had become riddled with mismanagement, self-interest and downright incompetence.
Thorn look poised to end the campaign with a comfortable margin over all their rivals and will now begin the work of preparing to face a Championship play-off match against the winners of Division 1A.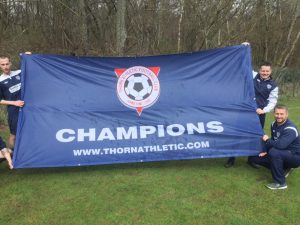 It looks like Glasgow Harp will clinch their respective league in the near future and both teams will be promoted to the Caledonian Premier League for season 2016-17.
The fact that Thorn Athletic will return to top-flight football at the first time of asking is huge credit to Donnelly and his coaching staff and the team that he has built.
After an initial decade which saw the team regularly collect silverware the past few years have made everyone involved realise just how hard it is to survive and succeed at this level.
And manager Donnelly told the club's official website: "I am delighted for everyone at the club that we are now able to enjoy this success.
"The team won all the crucial matches during the season and especially during the hard winter months we produced the results that took us into a fairly comfortable position in the end."
The team are also still involved in the Presidents Cup and are currently sitting top of Section 3 after three wins from three.
Despite a poor defeat away to Milngavie on the last Saturday of the campaign, the players celebrated their success at the home of sponsors The Thorn Inn.
The club also thanked Direct Engineering, McDoc Caravan Hire and Graeme's Butchers for their continued support.