Thorn Athletic Community Trust is celebrating after landing a £5,000 donation from local home builder Persimmon West Scotland.
The Johnstone-based organisation includes Thorn Athletic Community Football Club and Thorn Athletic Sports Academy and aims to provide all members of the local community with the opportunity to access quality sport and recreational activities, whatever their age, ability, gender or ethnicity.
Thorn Athletic's programme of activities sees more than 400 local children playing organised football and more than 100 people attending other community programmes. Their facility is also home to a variety of community groups, ranging from mother and toddler classes to clubbercise dance workouts. The activities are supported by a group of more than 50 volunteers.
Persimmon's £5,000 donation is being delivered through their Community Champions scheme, which supports good causes in areas where the company builds new homes. The scheme has seen over £1.5m donated to local charities, clubs and organisations across the UK since 2021.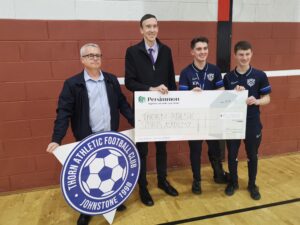 The money will go towards maintenance equipment to help volunteers look after the community sports pitch.
Thorn Athletic Chairperson Mark McGee said:
"The support of the business community is absolutely vital to the work we do and this significant grant will allow us to enhance our project for the benefit of the whole community."
Local Councillor and Thorn Athletic Committee member Iain McMillan said:
"I am delighted that Persimmon Homes have recognised the role Thorn Athletic play in the local community. The money given to the club will go to further improve the activities they can offer to local people."
Persimmon West Scotland Managing Director Chris Logan said:
"Thorn Athletic is a pillar of the community in Johnstone and their activities benefit people of all ages right across Renfrewshire.
"I'm delighted we're able to support the Trust's volunteers with this donation, which we hope will help ensure hundreds of people can continue to participate in their football and community programmes."